About KZ
Stoke! Kite Zombies exists for one reason, so we can stay stoked about this killer sport and infect others.
Kite Zombies is a core Kiteboarding shop located in extreme Northern California, smack in the middle of the "State of Jefferson". We serve the obsession of kiters in Northern California, Southern Oregon and the entire web.
Infection:
We contracted the kiteboarding infection and transformed into Kite Zombies in 2004. We were in related outdoor sports markets since 1994, prior to exposure.
Good Zombies:
Kite Zombies are good zombies! Our business practice is based on honesty, integrity, and customer satisfaction. We are a family business so this practice is more than just lip service, it's personal and a reason we stand the test of time.
Kite Zombies Care:
We give back to the sport by donating a portion of sales to kitesurfing related environmental causes.
Green Zombies:
We strive to minimize our impact on the planet! Our den is located in scenic Northern California and want to keep it that way. Below are a few steps we are taking to safe-guard the environment:
Kite Zombies produce less waste by practicing the 3 R's: Reduce, Reuse and Recycle
We have Collection Zombies that gather recycled packing material from within the community to be reused by the Shipping Zombies.
Certain Kite Zombies live on premise which means no commuting!
Kite Zombies consume organic products and ingredients whenever possible.
Kite Zombies are wind & solar powered (imagine that) and operate on clean renewable energy.
Kite Zombies Respect Privacy:
Our policy is simple. All customer information is confidential. Your privacy is important to us!
Meet the Kite Zombies: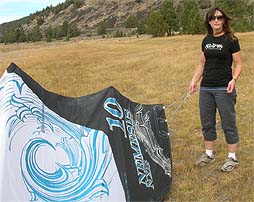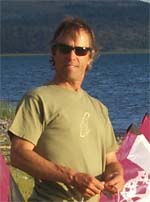 Anna and Bill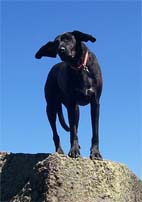 Indie taking a wind reading.
Spreading the stoke,
Bill & Anna Repetto