Lake Shastina
Lake Shastina Kiteboarding Guide
Part of the State of Jefferson Kiteboarding Guide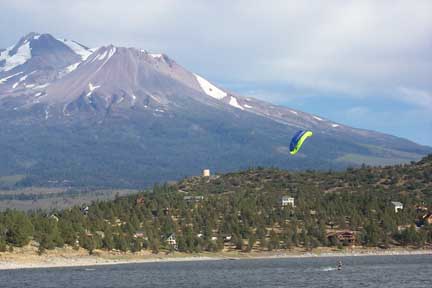 Intro:
Lake Shastina is a man made lake located in the high desert north of Weed, CA. Local windsurfers have enjoyed this spot for years because they can ride out the notoriously gusty south winds that go from near calm to smoke on the water in a matter of seconds. Complex mountain topography that rises over 10,000 feet above the lake manipulates the wind in interesting ways. True mountain flying! North winds, considered to light for windsurfing have totally been ignored, until recently.
Lake Shastina has been one of the most frustrating and spooky places for us to kite on quirky south winds. However, with the advent of the SLE (supported leading edge) kite, kiteboarding on Lake Shastina has become a survivable experience. In total contrast, the north wind events following a passing front yield some of the best kiteboarding conditions we have found east of the coast.
Launch:
A relatively safe launch in the bay east of the public boat facility provides plenty of space for rigging and launching. During times of high water, such as in the spring, space is a bit more cramped plus shoreline hazards may be submerged (see hazards below). This bay provides great kiting on those north wind events. On a south wind, this is the only spot I can recommend. The west arm of the lake with the public boat launch has some of the gustiest wind I have ever kited and can only be recommended on a north wind.
Hazards:
Gusty south winds combine with rocky launches and landings to keep things sporty. Getting blown downwind to private land can make for a long walk back to the launch and is an ever-present possibility due to the fluky winds. A Personal Floatation Device is a good idea due to the nature of the wind and the depth of the lake. If blown downwind, please be courteous to property owners whose land you will end up on. Booties are good idea if launching along the access road because of broken glass and trash around the campfire circles. The campfire circles themselves can be a hazard when they are submerged during high water seasons. Please help out by leaving this launch cleaner than you found it.
Lake Shatina Area Wind & Weather Data:
Weed Airport
Weed Airport - Caltrans RWIS
Weed Airport - Caltrans RWIS Plotted
Personal Weather Station at Lake Shastina (Weather Underground)
NOAA Point Forecast
Camping:
Camping is available at the lake and on public lands that surround the area such as up Military Pass Road.
Lodging:
Weed and Mt Shasta offer a variety of lodging options including motels and B & B's.
Eats:
Mexican: Dos Amigos (South Weed), Dos Geckos (Mt Shasta), Casa Ramos (Mt Shasta & Yreka)
Tai/Vietnamese: Sengthongs (Dunsmuir), Natalee Tai Food (Yreka)
Indian: Glassy Juction (South Weed)
Ellie's Expressio & Bakery (Weed)