Bogard Flat Snowkiting
Bogard Flat Snowkiting Guide
Part of the State of Jefferson Kiteboarding Guide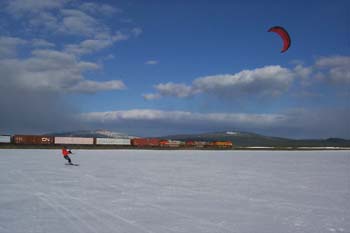 Intro:
Located about midway between Mt. Lassen and Eagle Lake on California Route 44, Bogard Flat offers road side snowkite convenience just 25 miles northwest of Susanville. As the name suggests the area is flat and dishes out nice steady wind at over 5,600 feet in elevation.
Note: The proper name for this area is Pine Creek Valley. With the Caltrans Bogard rest area adjacent to the valley we simply call it Bogard Flat.
The area between the road and the railroad tracks offers the easiest access and is approximately 1000 feet wide by a mile long. If you jump the tracks, and the fence on the east side, the area really opens up.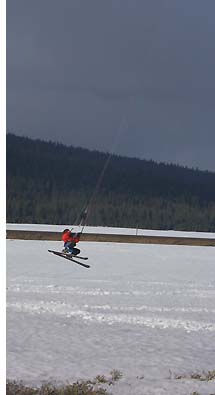 Hazards:
Besides the road and the tracks, 3 metal posts may be partially buried. These are located midway beween a concrete culvert at the tracks and the road.
Wind Data:
Fortunately, Caltrans operates a Roadside Weather Information System (RWIS) complete with camera at the Bogard Rest Area located at the north end of the flat.
Bogard RWIS
NOAA Point Forecast


Camping:
When there's snow on the ground and the kiting is good most of the campgrounds are closed. Self contained camping on public land is a possibility depending on snowpack and road conditions.
Food & Lodging:
Susanville (population 13K), 25 miles southeast, offers lots of options.