Whiskey Run
Whiskey Run Kiteboarding Guide
Part of the State of Jefferson Kiteboarding Guide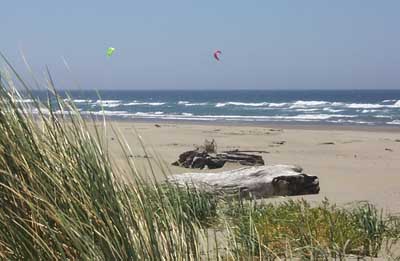 Intro:
Located 9 miles north of Bandon, Oregon. Whiskey Run offers surf, inside whitewater, steady wind and the opportunity to do multiple downwind laps because you can drive on the beach. When Floras Lake (approx. 1/2 hour south) gets crowded this is the perfect escape.
Summer conditions usually dish out strong north sideon winds. This is caused by a persistent thermal trough that forms during much of the summer. During other times of the year sessions can be had on prefrontal south winds. Water temperatures (50's F) typical for this part of the Pacific require full 5mm wetsuits, even in the summer.
Launch:
Whiskey Run is a wide gently sloping beach with lots of room. Either park in the lot and walk down to the sand or drive out on the beach and launch next to your car.
Hazards:
This is open Pacific Ocean with all the associated risks including cold water, large surf and strong currents. A personal floatation device is a smart idea. If parking on the beach a rising tide on this gentle sloping beach can trap a vehicle. If parking in the lot, note there has been past evidence of vandalism.
Wind Data:
NOAA/NWS Point Forecast
NOAA/NWS Marine Point Forecast
Camping:
Camping is free on the beach but camp high on the dunes as the tide has a long reach.
Bullards Beach State Park just north of Bandon offers hot showers and services typical of Oregon State Campgrounds. This campground is very sheltered but can be a bit buggy after sundown.