Lost Creek Lake
Lost Creek Lake Kiteboarding Guide
Part of the State of Jefferson Kiteboarding Guide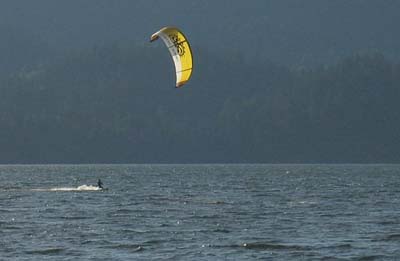 Image: Matt Thames (Southern Oregon Kite Addicts)
Intro:
Located 30 miles northeast of Medford up the Rogue River, Lost Creek Lake is the best nearby spot for Medford locals during the summer months when thermal winds blow.
Launch:
The day use area at Joseph H. Stewart State Recreation Area (fee area) is the common launching spot. This area can be crowded on weekends so please exercise caution when launching and landing to prevent conflicts that could jeapordize access.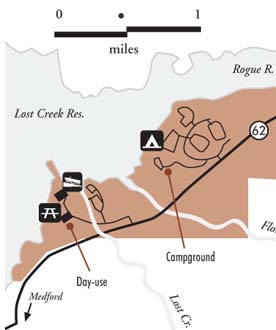 Hazards:
Broken glass is a concern at public beaches.
Wind & Weather Data:
Best wind direction for the day use area is northwest.
Camping & Other Amenities:
Joseph H. Stewart State Recreation Area is a "full service" state park and offers amenities such as campgrounds, restrooms and boat lauching ramps. For more information about this park visit the Joseph H. Stewart State Recreation Area website.
Food & Lodging:
Medford and Ashland to the west are your best options. Ashland is a college town and has the most to offer for night life.