Pistol River
Pistol River Kiteboarding Guide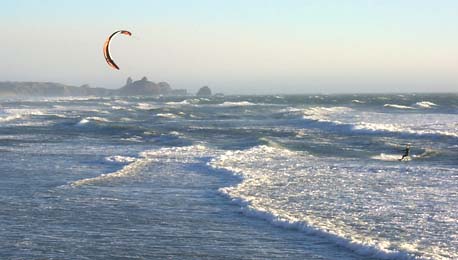 Part of the State of Jefferson Kiteboarding Guide
Intro:
Pistol River is located 10 miles south of Gold Beach or 18 miles north of Brookings, Oregon. This beach area is part of Pistol River State Park and is located a short walk from coastal highway 101. In fact, spectators can simply pull off the highway to view the action. Pistol River has long been a favorite among windsurfers long before kiteboarding became popular so please respect that fact. That being said, this is a public beach and all users have the right to enjoy it. To keep the peace stay downwind of windsurfers or use this launch when it's not crowded. Another option is to kite in the small lagoon near the 101 bridge.
Summer conditions usually dish out strong north winds. This is caused by a persistent thermal trough that forms during much of the summer. The local windsurfers usually turn out in significant numbers during high winds but during lighter winds the area is usually wide open for kiters. Fifty degree water temperatures are typical for this part of the Pacific so a full 5mm wetsuit or drysuit is required, even in the summer.
Here's a bit of trivia from the Oregon State Parks & Recreation Department website I thought was interesting: "Pistol River State Park is set in the dunes of the southern Oregon coast. The river supposedly got its name when a militia soldier lost his pistol in the river during the infamous Rogue River Indian War. In March of 1856, a decisive battle was fought here."
"The dunes and the river system that feeds them are what make this area unique. During the spring and summer months, the dunes actually grow. The river has changed its course numerous times in recent history and pothole ponds attract waterfowl and shorebirds. This is an excellent birding spot. Ocean windsurfing is so good here national championships have been held three years in a row. The beaches and sea stacks are wonderful."
Launch:
Park off the highway on the ocean side in the obvious lot north of the river. Pistol River offers a moderately sloping beach with lots of room. The beach gradient is greater than Whiskey Run to the north but still user friendly.
Hazards:
This is open Pacific Ocean with all the associated risks including cold water, large surf, treacherous shoreline and strong currents. A personal floatation device is a smart idea.
Wind Data:
Camping:
Campgrounds can be found near Gold Beach, just outside Samuel H. Boardman State Park and north Brookings (Harris Beach State Park).
Lodging:
Under construction
Eats:
Both the towns of Gold Beach and Brookings offer a variety of dining options and groceries.